Our select Turkeys are available this year in three varieties…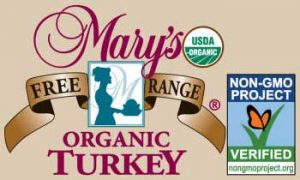 There is no order deadline as these birds were all pre-ordered in August. So, it is first come, first served. If you want a specific size, you should reserve it as soon as possible. Pick up date is on Friday or Saturday, November 16 and 17.
Call GNG at 920.868.9999 to place your order!
The following three varieties are priced from $3.29/lb to $6.29/lb:
Mary's Free-Range Turkeys
…are raised on healthful, non- GMO grains and allowed to roam in areas four times the size of areas provided by the average commercial turkey ranch. Their high-protein diet provides the optimal amount of nutrients for the turkey to grow into bigger and more flavorful turkeys than those typically found at the supermarket.
• Free-Range
• Fed a Vegetarian Diet
• Gluten-Free
• No Antibiotics EVER
• No Preservatives
• No Added Hormones
Available in 5 (approximate) sizes: 8-12 lb., 12-16 lb., 16-20 lb., 20-24 lb., and 25 lb.,
Cost $3.29/lb.
Mary's Certified Organic, Free-Range Turkeys
…are an additional step up the ladder in humane farming practices. These Turkeys have freedom to move about and receive a premium diet void of any chemical stimulants. Certified organic feeds must be certified by the USDA, and everything that goes into them must be certified as well. Mary's Organic Turkey feed contains:
• NO Antibiotics Ever
• Non-GMO Corn and Soybean Meal
• NO Animal By-Products
• NO Pesticide Treated Grains
• NO Grains Grown with Chemical Fertilizers
• NO Synthetic Amino Acids
Available in 2 (approximate) sizes: 8-12 lb. or 12-16 lb.,
Cost $5.29/lb.
Organic Prairie's Organic Turkeys
Their plump, juicy turkeys are raised the old-world way with 100% organic feed and the freedom to range in the out-of-doors. What this means (for the inner Puritan in you) is that you're assured a turkey that is free of antibiotics, synthetic hormones, and pesticides.
Available in 10-13 lb. size (approximate)
Cost $6.29/lb.