Greens N Grains (GNG) is northern Door County's only full service natural food store, offering a complete line of fresh, frozen, canned and bulk organic groceries, dairy products, bakery, meats and seafood, wine and spirits as well as a broad selection of personal care products – many of which are locally grown or manufactured right here in Door County. You will find bulk nuts and grains, spices, organic coffees and teas, healthy pet foods and a full selection of environmentally friendly cleaning products.
GNG also has a broad array of vitamins, supplements and herbs, protein powders and other nutritional products to help our customers take control of their own health. The store is very pleased to offer many locally grown and manufactured products including as much local produce as possible. At present we stock local, sustainably grown salad greens, spinach, kale, swiss chard by Cherrydale Farm and local sprouts and wheatgrass juice. We also sell local eggs, beef, chicken and even local yak burgers!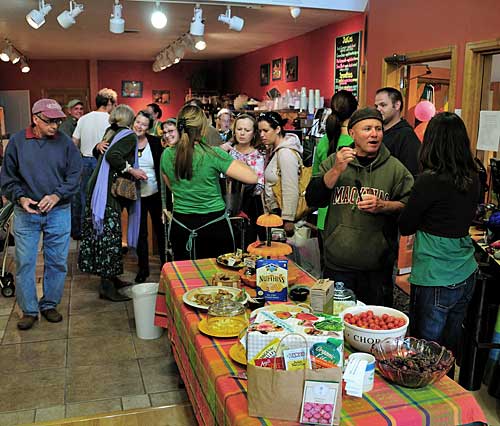 Greens N Grains Cafe is adjacent to the grocery. A full-service coffee and espresso bar serves breakfast lunch and early dining specialty dishes made exclusively from healthy, natural and organic materials. There is indoor and outdoor seating with free Wifi access.
The following interview appeared in the Peninsula Pulse several years ago (and explains a lot of GNG history):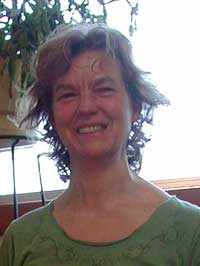 It's been more than a few years since Door County's first dedicated organic- and natural-foods store opened its doors. Christened "Greens n' Grains" by owner Kathy Navis, the shop makes its home in a late 19th century store building on Highway 42 in downtown Egg Harbor. This building was a general mercantile store when it was built in the late 1800s, making hardware and living supplies readily available to the region's pioneer population.
"To me, it's fitting that the building has returned to its original use," says Navis, who owns the historic store. "We're not a general mercantile per se, but we do want to provide one-stop shopping for our customers."
Navis has called Door County home since the early 1980s. She visited the Door Peninsula during the summer following her senior year at UW-Green Bay, and she never left. Many in the community knew Navis as the owner of Imported. Although she sold the business in 2000, she retained ownership of the building. In September 2001 she opened the Junction Center Yoga Studio, Door County's first yoga and Zen meditation spot, and a year later she opened Path in the mercantile building next to Imported. This new retail venture offered customers yoga props, fitness clothing, meditation supplies, incense and essential oils, natural-fiber clothing and jewelry, as well as books, CDs and magazines.
When Imported later moved out of the mercantile building, Navis saw an opportunity to realize yet another dream. "I've been wishing for someone to open a natural-foods store here for 20 years," she said. "So we opened Greens n' Grains. This business is the only thing that made any sense for this space."
Although Navis has been a consumer of all-natural foods since she belonged to a cooperative at UW-Green Bay 25 years ago, she knew little about the grocery business.
"I didn't have a clue," she said with a laugh. "I immediately went to every natural foods store I could get to – in Milwaukee, Madison, the Fox Valley – and literally wrote down everything that they carried. Then I had to start looking for suppliers, and I picked what I wanted to stock."
Her key supplier was Tree of Life, the nation's top distributor of natural, organic, specialty, ethnic and gourmet foods, which has worked with large supermarkets as well as small independent stores for more than 30 years.
"Since we opened in mid-June, we've been able to double our inventory," Navis said. "And we're always looking for new items to stock, so we welcome suggestions and special requests from our customers. "One customer came in and told me, 'You have all of my favorite things,'" she recalled. "My goal is to have all my customers feel that way, so I take a lot of special orders and try to accommodate them."
Greens n' Grains carries mostly organic foods, although it will stock non-organic alternatives if the price difference is significant. Offerings include meats, dairy, soy products and fresh produce; the shop also stocks supplements, paper goods, cleaning supplies and health and beauty products. These, too, are certified organic or are all natural.
"I really do want to be one-stop shopping," Navis said. "People don't have to shop anywhere else if they don't want to, and they can feel good about their purchasing decisions." According to Navis, consumers have an impact on both their personal health and the health of the planet by buying organic and all-natural products. "I believe that so many diseases are caused by food, water and the air we breathe," she said. "And, if we continue to support the proliferation of chemicals, we're going to leave this planet uninhabitable. "We need to consider how our consumption affects the rest of the world," she continued. "Think of a Guatemalan kid spreading insecticide from a backpack. We need to take responsibility, because we support foods being produced that way by what we're consuming." Navis pointed out that food purchases are a great way to make an impact, simply because we eat every day. "It's supply and demand," she said. "If we buy it, they keep making it. If we stop, they'll stop. I hope one day all stores will be like this one."
Navis has plans to further expand Greens n' Grains' offerings as the shop continues to move forward. "We're intending to do some classes," she said. "Supplements, cooking with whole foods – we're also looking at vegetarian cooking and ethnic cuisine."
With teaching yoga at the Junction Center, overseeing operations at Path and running Greens n' Grains, Navis certainly is a busy woman. Yet she said she gets tremendous gratification from sharing her expertise and such a broad range of products, from food to yoga supplies, with the Door County community.
"This is what's closest to my heart," she said simply. "It's my purpose in life – why I'm on this planet."