Starting at $4.95/lb., all our farm-fresh turkeys are humanely raised, free from hormones and antibiotics, and sourced from:
Mary's Free-Range Turkeys from Mary's Family-owned Turkey Farm
…are raised on healthful, non- GMO grains and allowed to roam in areas four times the size of areas provided by the average commercial turkey ranch. Their high-protein diet provides the optimal amount of nutrients for the turkey to grow into bigger and more flavorful turkeys than those typically found at the supermarket.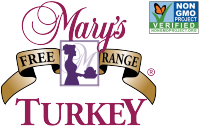 Proud to be family owned and operated since 1954, Mary's sons, David and Ben Pitman, are third-generation farmers who leads the company today. David and Ben have been taught by their father, Rick, who learned from his father, Don, about the importance of animal husbandry and their responsibility to protect the welfare of animals. A happy bird is a healthy bird, is a free-range bird.
Mary's Free-Range Turkeys are available in 8-20 lbs. sizes at $4.95/lb.
"Organic Prairie" brand of Certified Organic Turkeys from Organic Valley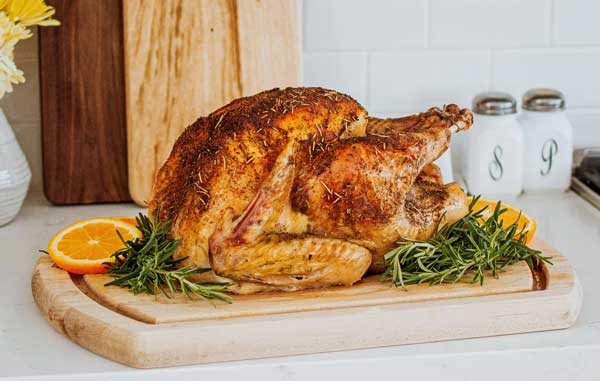 Organic Prairie turkeys are raised on a family farm in the Midwest. They are fed 100% certified organic feed and raised according to the strictest organic production and humane treatment standards:
Fed 100% organic feed
Raised at our family farm in Iowa & processed in the Midwest
Free of added salt solutions or injections
Raised without antibiotics or added hormones
Includes giblets – heart, liver, and neck for sensational gravy
A family favorite praised for being tender, juicy and delicious, our Organic Whole Turkeys have an unparalleled farm-fresh flavor that will satisfy all of your dinner guests. These turkeys cook beautifully and make a stunning centerpiece on the holiday table.
Organic Valley Turkeys are available in 12-14 lb. sizes at $5.95/lb.
Call GNG at 920.868.9999 to select
and reserve your choice.