Slingshot is about Segway inventor Dean Kamen, an indomitable man who just might be creating a solution for a crisis affecting billions.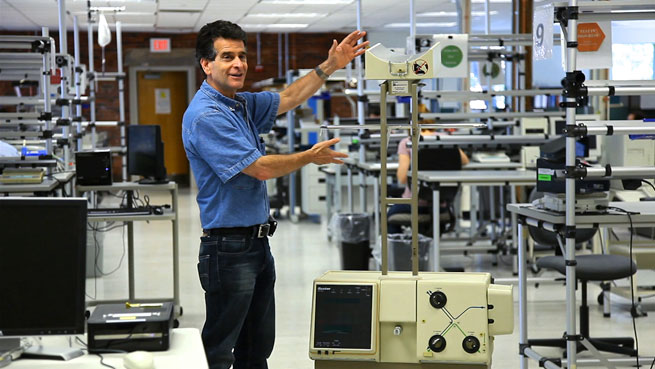 A quirky genius, Dean Kamen lives in a house with secret passages, a closet full of denim and a helicopter garage. His latest passion is the SlingShot water purification system, actually a 15-year quest to obliterate half of human illness on the planet. An eccentric genius with a provocative worldview, Kamen takes on grand-challenges one invention at a time, helping people in need. Half of all human illness comes from water-borne pathogens. Kamen's SlingShot is an energy-efficient machine that turns any unfit water (seawater, poisoned wells, river sludge…) into pure, safe water – no chemicals or filters needed.
Recently, Kamen allied himself with Coca-Cola . Will Kamen's technological know-how combined with Coke's global reach be a powerful enough force to address this global challenge? Find out at the next Greens N Grains Dinner and a Movie Night on Thursday, March 17.
SlingShot is both an inspirational character study and a look at the trajectory of Kamen's vapor compression distiller from its earliest development through recent trials in rural Ghana and beyond.
Greens N Grains Cafe offers a natural and organic dinner special each evening before the screening. Enjoy a delicious soup specialty, salad, a fresh baked roll and a cup of tea for $7.50, available from 6 pm on. Dinner and a Movie Night screenings take place at 7 pm and there is no charge to attend, but seating at screenings is limited to 28 people. Dinner and film reservations are requested. RSVP by calling 920.868.9999 or by email to info@greens-n-grains.com.
Greens N Grains Cafe is open Thurs., Fri. and Sat. from 10 am – 4 pm, except on movie nights when they remain open until 9 pm. The Natural Food Store is open daily from 10 am – 5 pm, located in downtown Egg Harbor at 7821 Hwy 42.