The Greens N Grains Deli, located in downtown Egg Harbor, has expanded once again, adding additional seating, a full service coffee and espresso bar and a full time specialty foods chef.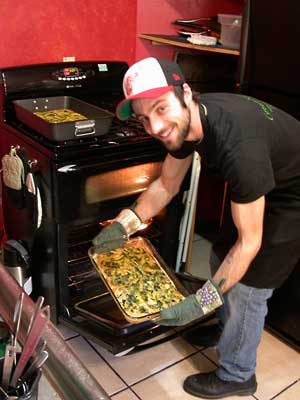 Jesse Frye is overseeing the ongoing planning and preparation of a wave of culinary specialties that include many raw and natural food delights. In addition to fresh-squeezed juices and smoothies, the menu now features nutrient dense, whole grain, organic, vegan and gluten-free options like his latest favorite, the Apple Cheddar Panini.
Like many young people with an interest in the culinary arts, Jesse worked his through the food industry over the past ten years from the bottom up, starting as a dishwasher he eventually began cooking at the Blue Horse Cafe, La Patisserie, Hinterland of Milwaukee and The Whistling Swan among others.
"I gained a great deal of inspiration from my Italian Grandmother, cooking for her eleven children and her grandchildren," explains Jesse. "My Grandfather on the opposite side of the family was a chef in the Navy.  I love going through cook books, reading, baking, doing ingredient deconstruction and recipe manipulation. And my favorite meal of the day is breakfast."
With added ground-floor seating now available for 25 people indoors and approximately the same number outdoors, plus the loft area and free Wi-Fi, the Deli is ready to serve delicious breakfast treats, opening daily at 7 am from June 1st on. Currently they are open from 9 am – 5 pm.
In addition to a delicious variety of pressed-to-order organic veggie juices and fruit smoothies, the lunch menu includes pastas, sandwiches, Panini's, wraps, a soup of the day, salads, baked goods and desserts.
Greens N Grains is Door County's only full service natural food store, offering a complete line of groceries including bulk nuts and grains, spices, organic coffees and teas, healthy pet foods as well as a full selection of cleaning products which are environmentally friendly. GNG has a broad array of supplements and herbs, protein powders and other nutritional products to help the consumer take control of their own health. The store is very pleased to offer many locally grown veggies and manufactured products including local produced eggs, beef, chicken and even local yak burgers.
Greens N Grains Natural Food Store is open daily from 9 am to 6 pm, Sunday – Thursday and 'til 7 pm on Friday and Saturday in downtown Egg Harbor at 7821 Hwy 42, and can be reached at 920.868.9999 or by email at info@greens-n-grains.com. The store's Website features news, special monthly discount flyers and the full Deli Menu with Coffee Drinks at Greens-N-Grains.com.