Scientists, physicians and consumer advocates are outraged that the The House Committee on Science, Space, & Technology, the Subcommittee on Investigations & Oversight, and the Committee on Small Business Subcommittee on Healthcare & Technology, are holding a hearing today, called: How the Report on Carcinogens Uses Science to Meet its Statutory Obligations, and its Impact on Small Business Jobs.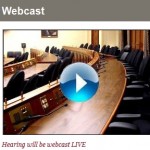 The hearing is ostensibly being held Wednesday, April 25 at 9 am, CST, to determine how the Report on Cancer (ROC) produced by the National Institute of Environmental Health Sciences (NIEHS) either helps or hurts small businesses and U.S. jobs.
The Republican controlled House is summoning the Director of NIEHS, Dr. Linda Birnbaum, to defend the nation's top program that identifies cancer-causing chemicals. Members of the science, health, and consumer communities are stunned and outraged that one of the nation's top scientists would be challenged about such an important program.
Dr. Birnbaum will be joined by an executive from Dow Chemical. Chemicals made by Dow for their products have contaminated communities in Midland, Michigan, Seadrift, Texas, and Bhopal, India.
Military veterans are outraged that the company that produced Agent Orange has been invited to advise them about cancer-causing chemicals. Former Marine, Robert O'Dowd, reports in Veterans Today: "Don't be surprised that Dow, the makers of Agent Orange, TCE, PCE and other carcinogens, may take strong issue with the ROC. The fact that Dow would be invited to participate in a hearing on the ROC is mind-boggling in itself."
David Levine, CEO and co-founder of the American Sustainable Business Council, says "One might interpret this as a ploy to undermine the role of science in supporting a safe and healthy marketplace for manufacturers and for consumers. Congress appears to be saying it is worried that the science of determining carcinogens in chemicals is somehow bad for U.S. businesses. Small U.S. businesses should be able to trust that any chemical or component with chemicals marketed and promoted for their manufacturing use in the U.S. marketplace are safe. Testing chemicals for their carcinogenicity is GOOD for business. The science of identification of hazards then should link to programs for innovation, which can help U.S. businesses determine how to make safer products for their customers."
"As a nurse and as a cancer survivor, I'm appalled that members of Congress would attempt to pit cancer protections against economics," says Carla Baumann, RN, from Madison County, Kentucky. "But in any case, it is also true that improvements to public health save money and result in a stronger workforce."
Kathy Curtis, Executive Director from A Clean and Healthy New York, remarks: "It's bad enough that parents have no way of knowing whether products are safe for their children, but to now target our leading scientific institution and their well-regarded program that tells us which chemicals cause cancer is beyond belief. Don't these Congress members have children? How many have had cancer, potentially triggered from chemicals that should never have hit the marketplace in the first place?"
"The health care sector is working hard to make sure the products it purchases are safe for health and the environment, and science-based information on the hazards of chemicals is critical to this effort," states Gary Cohen, President of Health Care Without Harm. "This Congressional hearing is a showcase to put the interests of the chemical industry above the health of all Americans. We commend the NIEHS for work to provide this critical information to the nation's health providers, and we urge Congress to support the Report on Carcinogens and other critical tools to reduce the chemicals in our environment that are contributing to our nation's chronic disease epidemic.
"With cancer rates rising in the US, and the increasing technical ability of the scientific community to understand the health impacts of hazardous chemicals, the only conclusion that can be drawn from this Congressional Hearing is that it is motivated more by politics than by a true concern for the health of the American people. Even more disturbing is the fact that time and resources that should be spent on actually protecting the public from further exposures to carcinogens are being wasted on an effort requiring one of the nation's most respected scientists to defend the work of an institution that is internationally recognized for its leadership and excellence in scientific inquiry. Is Congress really telling the American people that business concerns are more important than the nation's health? I suspect that any visit to a pediatric cancer ward or support group for cancer survivors would find little support for such a misguided effort," comments Lin Kaatz Chary, PhD, MPH Indiana Toxics Action.