A study at London's King's College, run by prominent Croatian nutritionist Lejla Kazinic Kreho, former student in the  bio-medical sciences department,  finds that "pickled cabbage", or sauerkraut, is as effective as the popular drug Viagra at increasing sexual function. Kreho makes the claim in her book Nutrition of the 21st Century. She says most people are unaware that cabbage is one of the most-powerful natural aphrodisiacs in the world.
According to the Austrian Times, Kreho says, "The knowledge collected at King's College shows pickled cabbage is the best natural Viagra. It may be hard to believe that saurkraut is one of most powerful aphrodisiacs, but the British data is conclusive."
Talking to Croatian daily's Vecernji List, she says: "I can only suggest all men try it. Eat cabbage twice a day and observe how your sexual power increases."
Several years ago Andy and Jennifer Sauter Sargent left Door County for parts farther north. They began Spirit Creek Farm, where they now make lacto-fermented kraut and kimchi on the beautiful south shore of Lake Superior, in Cornucopia, Wisconsin.
"After a season of growing his own cabbage and pounding kraut, Andrew decided to start making lacto-fermented food for retail sale," explains Jennifer. "We spent the winter of 2007 building a certified kitchen and researching, preparing and pre-ordering vegetables (from other local organic farmers) so we would be prepared to bring our products to market in the late summer and fall of 2007."
Lactic acid fermentation is an ancient food preservation process that actually of enhances the end product. Active biological cultures that live on the surface of vegetables turn the sugars in the vegetables into lactic acid. No special culture of lactic acid bacteria is needed because these bacteria are already present on raw cabbage. Afterwards, lacto-fermented vegetables contain more lactobacilli, a pro-biotic which aids digestion.
"Here are some fantastic little worker bees,"says Jenn. "Our season is quiet now but the harvest is beginning… Here we go!"
\
Greens 'n Grains stocks the following lacto-fermented Spirit Creek Farm products:
Purple Sauerkraut; Ingredients: Cabbage, Water, Sea Salt
White Sauerkraut; Ingredients: Cabbage, Water, Sea Salt
Ginger Carrots; Ingredients:  Carrots, Ginger, Water, Sea Salt
Kim Chi (Korean Fermented Vegetables; Ingredients:  Cabbage, Carrots, Radishes, Onion, Garlic, Ginger, Water, Hot Peppers, Sea Salt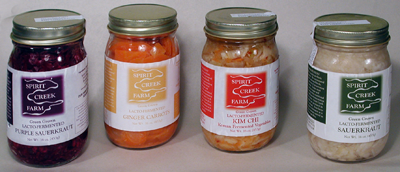 If you are in the neighborhood, the Harbor Landing restaurant in Egg Harbor now makes a delicious Kim Chi pizza, using Spirit Creek Farm's lacto-fermented vegetables supplied via Greens 'n Grains.
Diana at the Milwaukee Outpost says. "Spirit Creek Farm Kim Chi is leaping from the shelves at Outpost Natural Foods!"
Here's an Outpost video interview with Jenn and Andy that explains why…