Works by local Door County filmmakers are the main event on Thursday, February 10 at Greens N Grains Movie Night.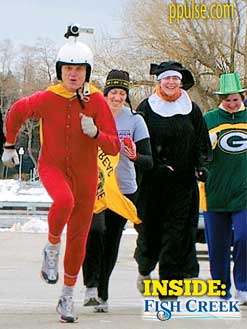 Yes, that's me on the cover of the Peninsula Pulse this week. Yes, that is a camera on top of my crash helmet. But no, I failed to hit the record button last year before starting. That was at the 1st Annual Fruit Loop run, part of the festivities that took place at the Fish Creek Winter Festival in 2010.
This year, I was back, caped in Packer green and gold and you can be sure, I captured the entire event… live from the helmet cam! I look forward to sharing the fun on Thursday, February 10 at Door County Mini Movie Night II.
Thanks to Joel Kersebet and Chris Opper with Nostalgic Productions for collecting a good portion of the films we will feature… all created by local Door County filmmakers. They launched Door County Mini Movie Night at the Base Camp Coffee Shop in Sister Bay a few weeks ago. Check out this great Pulse interview with Chris…  The Allure of the Short Film: Door County Mini Movie Night.
Here's the tentative roster… more shorts may be added.
New Religion
Early Thomas Band, pat mAcdonald and Supernova Production Co.
3:01
Christmas Time
Patrick and Shannon Smits
3:25
Mailbox Baseball
Kenny Barrickman
12:05
The Cheese Curd Incident Aftermath
Tim Erskin
16:17
Rhythms of H2O
Ed Dimaio
13:27
Butterflies Fly Free
Lloyd Michalson
4:41
Invasion of the Body Snatchers
Rebecca Dougherty
4:24
Duh!
Chris Opper
2:00
DCZ
Eric Michalson
5:40
Aliens in the Kitchen
Tim Erskin
2:24
My Time Here is Done
Early Thomas Band and Supernova Production Co.
4:17
Fish Creek Fruit Loopin' 2011
Stephen Kastner
5:19
Caballeros, Duesenbergs and Trains
Laura Stewart
7:30
Any one who wishes to add their DVD short works (10-minutes or less) to the evening's roster may call me at 920.256.9449 with questions. The screening room is now equipped with a 60″ wide screen, video projector, supplemental audio speakers and a standard DVD player.
The films will be shown in the loft above the Deli at Greens N Grains Natural Food Store in downtown Egg Harbor and screenings are free – however, the seating is limited to 30 persons. You may make a seating reservation by calling 920.868.9999 or by email at info@greens-n-grains.com.
The $7.50 natural and organic dinner special; soup, salad, a fresh baked roll and tea features tasty examples of the G&G Deli's specialties. Serving begins at 6 pm with the film screening at 7 pm. The dinner special is available to anyone with a reservation. So please let us know that you are coming… RSVP.
Greens N Grains Natural Foods and Deli is open daily from 10 am – 5 pm – except on movie nights when we remain open until 9 pm – in downtown Egg Harbor at 7821 Hwy 42, and can be reached at 920.868.9999 or by email at info@greens-n-grains.com.