For several seasons, Carmon's Gardens has been supplying Egg Harbor's Greens N Grains Natural Food Store and a number of restaurants in Door County with his fresh produce – including The Whistling Swan and Mr. Helsinki's.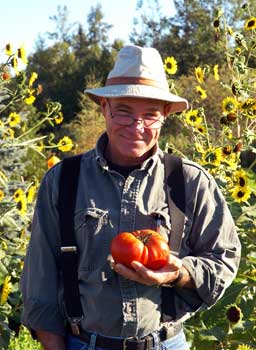 Carmon Mabrey has been a gardener for many years. This year, he is hosting a 35+ member CSA to serve the Door Community. Carmon's Gardens will provide CSA members with a real organic food experience, equivalent to those springing up all across Wisconsin and in communities all over the world.
From the start, everything in Carmon's Gardens has been grown under sustainable agricultural practices, fully vine ripened using no synthetic fertilizers, chemical herbicides or pesticides. Food grown this way not only tastes better and lasts longer, but contains all of the nutrients that real food should provide.
Throughout the 18-week season you can expect a variety of herbs, leafy green vegetables and root crops that include many heirloom varieties. Carmon's Gardens will grow: beans, broccoli, beets, basil, carrots, cilantro, cucumbers, dill, eggplant, fennel, garlic, head lettuce, kale, leeks, lettuce mixes, peas, peppers, potatoes, spinach, squash, sweet corn, rosemary, Swiss chard, sunflowers, tomatoes and zucchini.
A CSA seasonal share subscription at Carmon's Gardens costs $500 and provides shareholders with a weekly minimum half-bushel of the best quality sustainable produce as harvested for 18 weeks – 1/2 bushel is equal to a standard grocery bag filled 3/4 full.
A share will abundantly feed 2 people. Half-shares are also available for $300, providing the same quantity on a bi-weekly basis. Shares will be available for pick up at the farm in Jacksonort, at Greens N Grains Natural Foods in Egg Harbor or at the Nelson Healing Center in Sturgeon Bay. There is also a possibility of  a Sister Bay pick-up if enough people sign up. The season begins in mid- June and lasts until late October.
A typical early-season half-bushel will include mixed greens, peas, garlic scapes and spinach. Mid-season offerings will include beans, new potatoes, sweet corn, summer squash, tomatoes, garlic, Swiss chard, broccoli, cabbage, beets and eggplant. Late season boxes may have broccoli, eggplant, kale, potatoes, peppers, tomatoes, carrots, winter squash, potatoes and pumpkins.
Available "add-ons" include:
Local eggs by the dozen laid by pastured chickens at either Cherrydale Farms in Sevastapol or Sunset Farm in Brussels.
A variety of fresh artisan bread from Island Breads of Washington Island – baked for the most part with locally grown organic wheat flour in a wood-fired brick oven that results in delicious hearty breads.
A pound of Wisconsin-roasted, organic, fair-trade coffee – sourced from Alterra in Milwaukee. The coffee varieties are available in regular or decaf.