You are invited to catch a Sneak Preview of Tim Erskine's new comedy short, "The Case of the Tainted Cheese Curds" – A Door County Boys Mystery.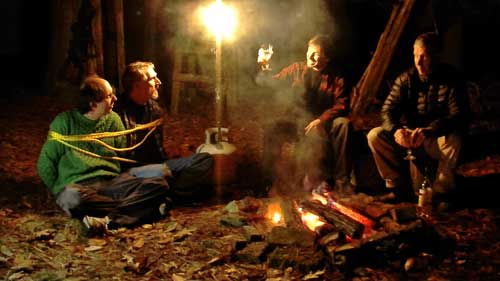 Door County locals Jim (Tim Erskine) and Mark (Pat Palmer) run afoul of two hapless criminals (Peter Ciesla and Joel Kersebet) and a plot to poison thousands of Green Bay Packers fans with bad cheese curds. Along the way, the boys find a map that takes them to a remote cabin in the woods and into a secret Door County cave in search of buried treasure.
Stephen Kastner's 10-minute documentary, "Midsummer's Music 2010 – 20 Years in Door County" will open the evening screening. Later in the evening, he will show two music song-videos featuring original works performed by singer/songwriter Debra Hadraba: "Be Brave, Have Heart" and "Time on Fire."
"This evening is like open-mic for filmmakers," says Kastner. "It's an open-ended invitation to any and all Door County filmmakers who wish to screen their work. We hope to do this on a regular basis."
Ed DiMaio will also be sharing 3 or 4 of his recent short films. He calls them, "improvisational video poems." Any one who wishes to add their works to the evening's roster may call Stephen at 920.256.9449 with questions. The screening room is equipped with a 36″ widescreen TV monitor, supplemental audio speakers and a standard DVD player.
The films will be shown in the loft above the Deli at Greens N Grains Natural Food Store in downtown Egg Harbor and screenings are free – however, the seating is limited to 30 persons. You may make a seating reservation by calling 920.868.9999 or by email at info@greens-n-grains.com.
"The $6.50 natural and organic dinner special; soup, salad, a fresh baked roll and tea will feature another tasty example of the Deli's specialties," says Kathy Navis, store owner. "We start serving at 6 pm with the film screening at 7 pm. The dinner special is available to anyone without reservations, but our film seating is limited."
Greens N Grains Natural Foods and Deli is open daily from 10 am – 5 pm – except on movie nights when they will remain open until 9 pm – in downtown Egg Harbor at 7821 Hwy 42, and can be reached at 920.868.9999 or by email at info@greens-n-grains.com.