Award-winning Documentary on Child Migrants Next in Thursday Dinner and a Movie Series, Feb 9
The bi-weekly film series at Greens N Grains Deli presents a hopeful film covering the migration of children on Thursday, February 9 at 7 pm.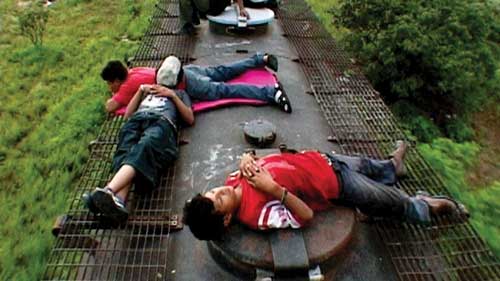 In 2006, Rebecca Cammisa received a Fulbright Scholar Grant to travel to Mexico to document the plight of the children left behind when their families travel to the United States to find work. Her Oscar-nominated film is the result of that journey. Cammisa and her crew follow a trio of children who set out on their own from their Latin American abodes on a dangerous trek through Mexico en route to the U.S. border and – they hope – to their families' embrace.
"Which Way Home" is a feature documentary film that tracks the journeys of unaccompanied child migrants, on their passage through Mexico, as they try to reach the United States. The film follows children like: Olga and Freddy, nine-year old Honduran kids, who are desperately trying to reach their parents in the USA; or children like Jose, a ten-year old El Salvadoran, who has been abandoned by smugglers and ends up alone in a Mexican detention center; and Kevin, a canny, streetwise fourteen-year old Honduran, whose mother hopes that he will reach the USA and then send money back to her.
These are stories of hope and courage, disappointment and sorrow. They are the children you never hear about – the invisible ones.
"The $7.50 natural and organic dinner special; soup, salad, a fresh baked roll and tea will feature another tasty example of the Deli's specialties," says Kathy Navis, store owner. "We start serving at 6 pm with the film screening at 7 pm. The dinner special is available to anyone without reservations, but our film seating is limited so please, make a reservation."

Greens N Grains Natural Foods and Deli is open daily from 10 am – 5 pm – except on movie nights when they will remain open until 9 pm – in downtown Egg Harbor at 7821 Hwy 42, and can be reached at 920.868.9999 or by email at info@greens-n-grains.com.