'The Story of the Weeping Camel' Next in Thursday Night Film Screening Series, Mar 10
Nominated for an Oscar as Best Documentary in the 77th Academy Awards, The Story of the Weeping Camel is better described as a "docudrama."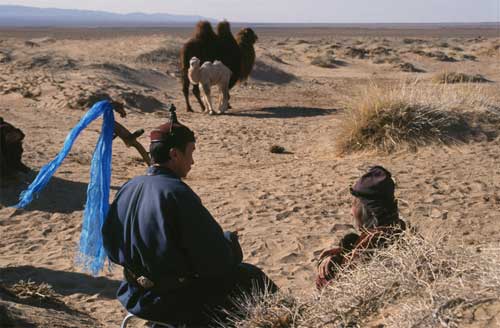 The film was written and directed by two student filmmakers, Byambasuren Davaa and Luigi Falorni about a family of nomadic shepherds in the Gobi Desert, South Mongolia.
The Washington Post's Ann Hornaday reports, "As a student at the Munich Film School in Germany, Byambasuren Davaa knew she wanted to make a film set in her native Mongolia. She told a fellow student, Luigi Falorni, about a story she heard while growing up, about mother camels rejecting their young and being coaxed into nurturing them through a nomadic singing ritual. Together they worked on a proposal for a documentary about the practice, which a German television station agreed to finance along with the university."
To restore harmony between the mother and calf, the nomadic family call upon the services of group of lamas who perform a ritual with bread or dough 'effigies' (Tibetan: torma) of the mother, the calf and the individual members of the family. The rite opens with the sound of a sacred conch shell horn followed by bells in the hands of lamas, some of whom wield 'vajra' (Sanskrit).
The film is a blend of classic documentary film making created with "reality actors" under the direction of two young filmmakers on a mission to deliver a glimpse of the history, art, magic and spiritual dimensions of a distant and remote culture. They had to overcome tremendous natural and geographic obstacles to make the film, and when they eventually arrived quite late in the calving season, something truly magical took place.
"The birth, the rejection and the ensuing attachment ritual all happened while Falorni filmed them," Hornaday explains. "Only the film's connecting story, which features a family of four generations living together in three beautifully appointed yurts, was written by the filmmakers."
After the last Green Door Film Society screening it was agreed upon that the next film would be one that is spiritually uplifting. Critics agree that The Story of the Weeping Camel is such a film, and the group invites everyone to enjoy it with them on Thursday, March 10 at 7 pm.
Greens N Grains Deli hosts a natural and organic dinner special each evening before the Film Society screening. Enjoy a delicious soup specialty, salad, a fresh baked roll and a cup of tea for $7.50, available from 6 pm on. The Film Society screenings take place at 7 pm and there is no charge for membership but seating at screenings is limited to 30 people. Dinner and film reservations are requested.
Greens N Grains Natural Foods and Deli is open daily from 10 am – 5 pm – except on movie nights when they will remain open until 9 pm – in downtown Egg Harbor at 7821 Hwy 42, and can be reached at 920.868.9999 or by email at info@greens-n-grains.com. The store's Website features news and special monthly discount flyers at Greens-N-Grains.com.